Training Services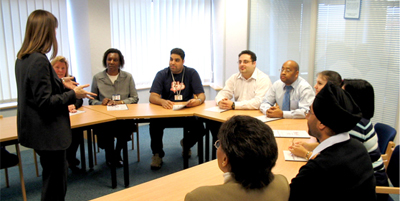 GAMT addresses all of the aforementioned global issues with Training as a component of any given program.
We are committed to providing the following training services:
Needs Assessments:

Providing rigorous assessments of organizational and individual training needs using tools such as surveys, job task analyses, regulatory reviews, interviews, focus groups, and observations, etc.

Course Design:

Using Instructional Systems Design (ISD) methodology to construct courses.

Evaluation:

Incorporating a variety of evaluative approaches into training design and delivery to measure the achievement of course objectives, quality of instruction and content, acquisition of knowledge and skill, and transfer of learning to the job.

Course Delivery:

Presenting courses to diverse audiences using advanced technology and other media as appropriate to the content and the audience.

On-the-Job Training (OJT):

Developing training tools such as job breakdowns, job aids, and desk guides to be used on the job to facilitate job knowledge and skill acquisition at the workplace.

Technology Applications:

Providing distributive learning using all technology applications suitable for training such as computer-based instruction, interactive video webinars, etc.

Course Offerings:

GAMT has the capability to offer courses in the following areas:

Management & Leadership
Communication Skills
Conflict Management
Presentation Techniques
Influence Techniques
Change Management
Project Management
Performance Management
Strategic Planning
Custom Designed Content Areas
Microsoft Office Applications
© GAMT. All Rights Reserved.